We use light boxes to really pack "PUNCH" into a retail environment. These fluorescent retail displays provide a clear picture of the life style or theme of your store, booth, business etc. The use of a light box display allows photos and written copy to be joined together to tell a story in a way that would never be possible with your average merchandise presentation. Light boxes work best with color transparencies generated either in-house, by a generic photo library or by one of your vendors. Regardless of the application, TRIO has the perfect light box for all of your display needs.
Please click on one of the categories below for more light box information and pricing, or call one of our customer service representatives at 1-800-454-4844 with any questions.
Classic Series Light Boxes – Our Classic Series of backlit displays are built with an aluminum frame and come in both standard and custom sizes. At home both indoors and out, these boxes never fail to provide an attractive, eye-catching display solution.


Frameless Light Boxes – Unlike other light boxes, which use a "framed" design for graphic changes and bulb replacement, these technologically advanced backlit displays make use of a magnetic access system which is both easy to use and ADA compliant. The lack of a frame also creates a truly "seamless" look that adds an extra dimension of elegance to these displays. Appropriate for both indoor and outdoor applications, these light boxes are perfect for anyone in need of a display that is versatile, visually stunning and user-friendly.


Ultrathin Light Boxes – New to the TRIO Display Online Catalog, these super slim, aluminum framed backlit displays are illuminated by reflecting light through a specially designed diffuser panel. This mix of technology and classic styling results in an attractive, evenly lit display that will add an eye-pleasing touch to any retail environment.


Economy & Countertop Light Boxes – Available in a limited range of sizes, these entry-level Backlit Displays can be configured to either sit on a countertop or mount on a wall. Frames are available in acrylic, black plastic, and aluminum.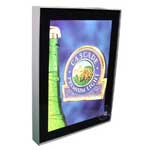 Double-Sided Light Boxes – This is the "two-way" version of our frameless light box with the same features, same beautiful results and twice the display area! This unique system adds only a quarter of an inch to the thickness of a single-sided frameless box, creating a slim, visually appealing double-sided display.