Floorcoverings in a store provide both an attractive surface for your customers and employees to stand on and serve as a backdrop for your merchandise. Selecting floorcovering materials for a store is nothing like the same process for a home. In a store, the traffic is greater, the maintenance higher and the visual aspect more critical. Cost, color, and materials become important from an objective business point of view, rather than a purely personal aesthetic.
Flooring can be designed into a shop to create an illusion of greater space or to define and accentuate particular areas. For instance:

• Using rubber, vinyl or ceramic tiles at the entryway and continuing the tiles through the store as a guide or
• Using different carpet styles or colors to differentiate sections of a store such as men's, women's, kids', etc.

The flooring change stimulates customer interest and enhances product identification. The end result can mean heavier and more controlled traffic with a resulting increase in sales volume.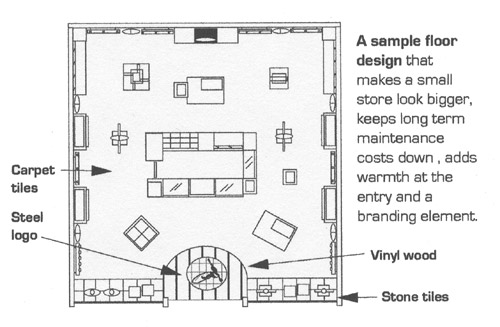 The "wear characteristics" of carpeting have to bea major factor in its purchase. However, carpet performance and longevity are tied to a combination
of traffic patterns and fiber composition. Most commercial grades of carpet are now made from Nylon, Olefin, or a combination of the two and the difference in fiber creates a major difference in wear and in price.
Resilient floorcoverings are very popular in the retail industry because of their durability, stain resistance and ease of maintenance. Resilient floors include wood, ceramic and vinyl tiles, marble and granite, and of course, rubber radial tiles. For most retail applications we specify a resilient floorcovering at the entry to save wear on the carpet.
Choosing the proper floorcovering for your store takes both time and a careful analysis of your particular needs. It also requires a careful appraisal of both your long and short term requirements. TRIO sells over 50 lines and 2500 styles of commercial carpeting and resilient floorcoverings. Give us a call if you need a specification or a bid.