include ("./includes/osc_includes/catalogheader2.php"); ?>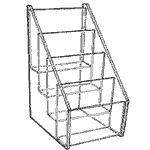 Acrylic Displays are some of the most widely used products in modern visual merchandising and store design. Acrylic is useful in nearly every retail application due to its affordability and versatility, and one would be hard pressed to find a retail space that couldn't benefit from the added functionality and design enhancement of an acrylic display. Acrylic can also be used in conjunction with slatwall and gridwall, and can be found as a crucial element in many custom fixtures. We carry thousands of acrylic items, however we do have the ability to produce custom acrylic displays if you are unable to find what you're looking for in the categories listed below. If you are interested in custom work, please give us a call or drop us an email at info@triodisplay.com and we'll be happy to assist you.

Please click on one of the categories below for more acrylic display information and pricing, or call one of our customer service representatives at 1-800-454-4844 with any questions.



Acrylic Bins – The items in this category come in a wide range of shapes and sizes and can display everything from rings to candy to stuffed animals and more!


Acrylic Blocks, Bases & Risers – "The Foundation" of any great acrylic display. Items in this category include motorized bases, step risers and acrylic pedestals.


Acrylic Easels – A simple yet effective display method that works well for the presentation of books, dishes, keepsakes, awards and more.


Acrylic Floor Fixtures – Includes a series of pre-made display fixtures as well as a selection of connectors and acrylic panels that can be used to construct your own acrylic floor fixture.


Ballot & Raffle Boxes – Great for customer giveaways, elections, contests, suggestion boxes and more!


Food & Restaurant Supplies – For our friends in the food industry. These displays are the perfect addition to any restaurant, coffee shop, doughnut shop, etc.


Jewelry and Cosmetics Display – In this category you will find display solutions for Earrings, Watches, Necklaces, Rings, Lipstick and Nail Polish.


Media & Literature Display – In this category you will find Book, CD, DVD, Literature, Magazine and Newspaper displays.


Showcases & Counter Display – This category features mirrors, acrylic/hardwood combination displays, "tower racks," locking showcases and more.


Sign Holders & Poster Display – Perfect for displaying Signs & Posters in an attractive, affordable way.


Specialty Acrylic Displays – Here you will find displays for Business Cards, Calendars, Cell Phones, Credit Cards, Gift Wrap, Greeting Cards, Knives, Ornaments, Pens, Shoes, Sunglasses and Tableware.


Statwall, Gridwall & Wallmount – This category contains shelving and specialty displays that can be used in conjunction with slatwall and gridwall or mounted directly to the wall using hardware that you provide.


Product Categories On This Page Include: